BEYGOODco — Artist Profile
Posted on January 12 2016
Emily Gillis of BEYGOODco - Illustrator and Designer
From Toronto, Canada
Currently in Toronto
The BEYGOODco collection in a nutshell? It's pop culture themed. Lots of funny puns on pop culture — viral stuff, very poppy graphic stuff.
Drake Snaps Scoop Tee from BEYGOODco Collection
What's it like to have gone viral?
Super crazy. I was at my real job when my Drake illustration turned into a meme that went viral. I was getting all these notifications. Kevin Hart posted it. Young Money posted it. Nobody knew where it was coming from, though. It didn't have my name on it. I messaged everyone under the sun. I was like, Guys, if you see this picture, please tag me in it. It's mine. I'd write on people's posts, Thanks so much for posting! the Canadian nice way.
Drake's from Toronto, too? Are you guys going to be famous friends?
He is from Toronto. The drawing blew up way beyond my expectations. People put it on donuts. It was really great and a really fun experience, but I don't really want to be famous; not for a Drake holiday card. It's fun, but I don't want to be a pop star. I don't want anyone to try and find out where my house is.
Drake Drizzy Pattern Crew Tee from BEYGOODco Collection
Do your friends treat you differently?
No, I don't think so. Maybe in secret. My mom thinks it's pretty awesome. She got me to do a custom one for her: a bunch of the Drake Christmas cards. She mailed them to all her friends. It's funny because usually she sends out really traditional cards — red background, Christmas tree. She traded them out for these Drake ones.
How long have you been making illustrations?
I started doing them last year. I'm a painter. After school, I turned to digital art. I taught myself graphic design, illustration. 
This is sort of my fun thing to do when I'm watching Netflix — drawing my things sitting on my couch. I use a Wacom tablet plugged into my laptop. I just doodle and knit. It's nice to sit back and do something that's worth doing.
Watching anything good lately?
Spectre. Skyfall. Mr. Robot. It's really good. Oh man, so good. I'm watching it with my mom — it's so scary.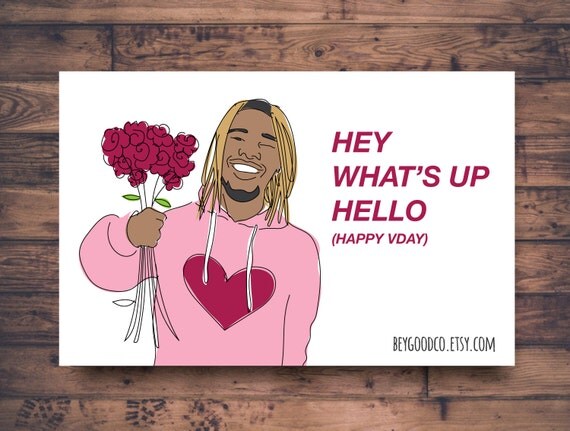 Fetty Wap Valentine's Day Card from BEYGOODco Etsy Shop
What inspires you?
Whatever makes me laugh at the moment. The one with DJ Kahled — did you see DJ Kahled get lost on a jet ski the other day? I saw that and thought, That's hilarious and that needs to be an illustration. That one was kind of fun. I was drawing my own version of a DJ Kahled selfie. I mean, the internet is so weird.
Lost DJ Kahled from @BEYGOODco Instagram
What's next?
You don't know what the next crazy big thing is going to be. If there's another—Oh my gosh, that guy, the "Hide your wives, hide your daughters" guy! Something else might be that huge tomorrow, a DJ Kahled on a jet ski kind of thing. That's going to spark something.
I love suggestions. If anyone has a good idea that they'd want, they should definitely let me know.